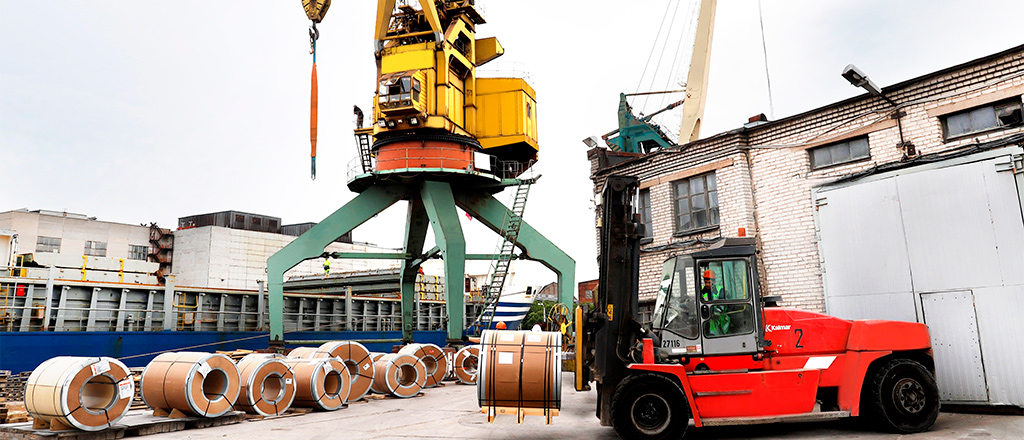 Stevedoring company of «CCTL» JSC is located on
«Big port Saint Petersburg» territory, and has over 20 years of successfull operations on the stevedoring services field.

We offer full range of transhipment and storage services for a wide variety of cargo, including dangerous cargo, transported by sea, railway and road transport in import/export freights.

Services:

Ship loading/unloading

Mooring services

Cargo transit and warehousing

Dangerous cargo transhipment (4, 5, 8, 9 hazard class)
Recieving, storing and shipping loaded containers (including refrigirators)
Recieving, storing and packaging empty containers

Providing containers for loading and shipping

Vehicles loading/unloading

Loaded containers and transport weighing

VGM certificate issuing

Temporary cargo storage(covered and open storage areas)
Sorting, bundling, forming cargo lots of any complexity
Additional services on request: packaging, reloading, labelling, palleting, and other preparations cargo for transportation.

Storing and labelling goods in a customs warehouse under a customs regime
Разработка схем размещения и раскрепления грузов
Area and infrastructure rental for customers to work themselves

Loadind/unloading railway wagons

Railroad freight forwarding services, wagon layover

Handled cargo:
containers
forestry and lumber, timber

metal sructures

goods in big-bags

general purpose cargo

coastal freights

bulk cargo
dry bulk
wet bulk




Sales department: (812) 339-94-20, (812) 339-94-21




Email: sales@cctl.ru
SV-2 berth (mooring wall length: 120 м draught: 5,9 m)

Acceptable ship specs: length 120 m, draught 5,9 m
SV-2 has 24/7 customs zone (open area and covered warehouse), allowing for cargo unloading without additional transportation.


SV-7 berth (mooring wall length: 192 m draught: 6,5 m)

Acceptable ship specs: length 120 m, draught 6,5 m


SV-1 berth (total mooring wall length: 94,4 m., draught at 30 m part of wall adjacent to SV-2: 5,9 m)

SV-3 berth (length: 25 m, draught: 4,6 m)


Total covered warehouse area - 25 612 m2
Total open storage area - 65 000 m2
Railroad length - 7 000 m
Technical equipment:
Portal crane (16 ton; 32 ton load capacity) - 3 units
Bridge cranes - 14 units
Gantry cranes (10 – 50 ton load capacity) - 6 units
Locomotives - 3 units
Railway crane ( 25 ton load) – 1 unit
Refrigiration zone capacity - 440 units